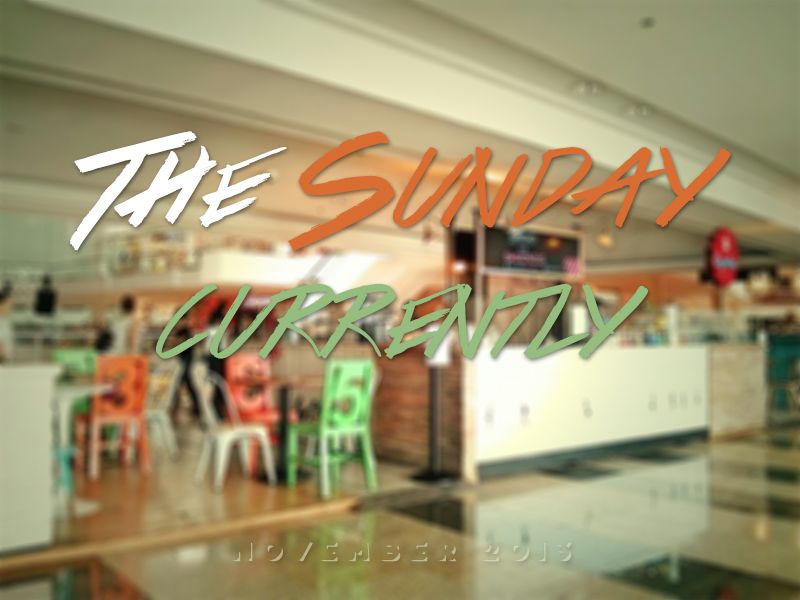 Reading: Been jumping from one Buzzfeed post to another in the past 2 hours.. but I'm currently reading this one — 30 Forgotten Horror Films You Should Revisit
Writing: Fonts and hex color codes for this website project I'm doing. I know, I know. I could easily type them but I don't wanna have to keep switching windows on my already cramped up laptop display. Right, 1650×1050 is considered "cramped".
 
Listening: See You by Foo Fighters
Thinking: Where to start w/ this website project..
Smelling: I'd like to think that I smell better than the last time I did this Sunday Currently post (which was 2 months ago, LOL)
Wishing: for more time! I'm beginning to see that 24 hours in a day is simply not enough. Either that or I am poorly managing my time.
Hoping: I get to buy an iPhone by the end of the year. How materialistic of me… but hey, it's almost Christmas!!
Wearing: Pambahay clothesies~
Loving: (I'm drawing a blank for this, haha. Wala eh.)
Wanting: YABU! Or to pig out at Yakimix buffet with my friends. I haven't had a full meal all day so here I am having random cravings.
I blame my friend for my sudden interest in buffet restaurants.
Needing: …more time and motivation to just keep working and don't let myself get distracted so easily. Oh and I need to get my hands on the new Android OS. I bet it would look perfect on my phone.
Feeling: (still) Exhausted, physically and mentally. ¯\_(?)_/¯
Clicking: …around Twitter replying to random people and still around Buzzfeed for posts related to 90s shit.
I know I said that I will do this monthly, but I just realized last week that I just missed doing one for the month of October. See how terrible I am w/ doing this? Lol
Viewed 8121 times by 1583 viewers