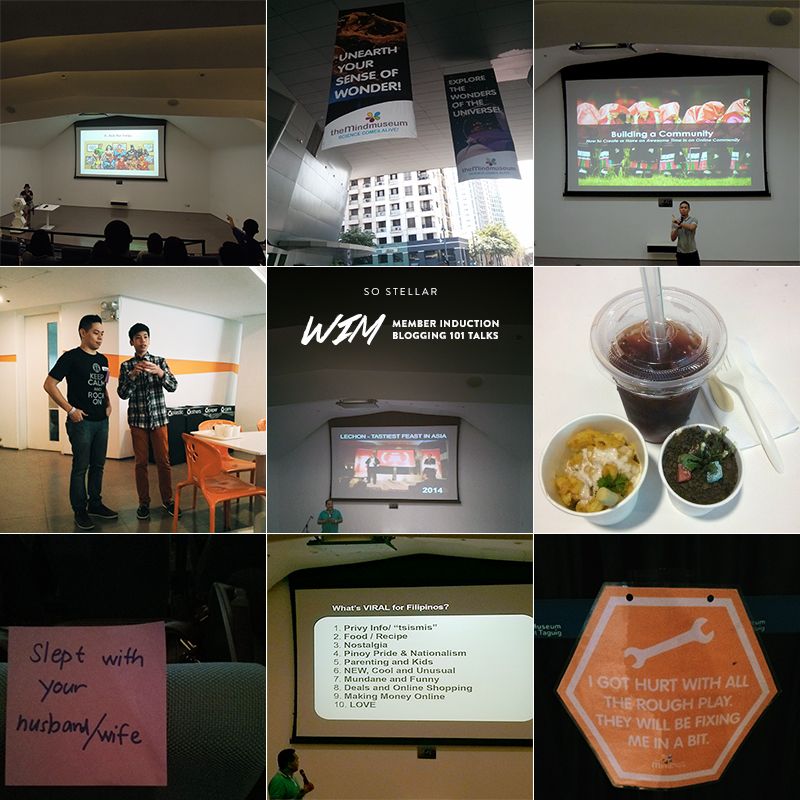 L-R: 1. Angeline of WIM speaking about how to make writing easier 2. Outside The Mind Museum 3. Jason Cruz on Community Management talk 4. Kyle Imao of Kyle's Lab (located in 2nd floor of The Mind Museum) explains his Tiramisu Pot to the WIM members, and Vince Golangco of WIM 5. Anton Diaz of OAP on Blogging Secrets talk 6. Snacks c/o Kyle's Lab! 7. The flashcard I got for the icebreaker game (I had to guess what it is by the way my teammates treated me) 8. Anton Diaz of OAP talks about viral topics that gets our attention online (I cringe at #10) 9. Funny sign I saw outside somewhere in the museum
I'd say that yesterday was a very productive one. After weeks of being stuck at home, cooped up in my room and fixing all sorts of things in my offline life, I went out to meet new people, and went home at the end of the day with newfound knowledge about what I have been doing most of my life. Blogging, what else?! Hahaha.
Happy to be part of the growing community of wheninmanila.com, too! I was a little starstruck seeing most of the known people in there in person but I'm happy to say they're all approachable and really nice people. That might sound creepy, because.. for a few months I've only lurked around, hah. I love how they're geeky (aren't we all?!) and funny. I had no expectations but to just learn from the talks but I got more than that from yesterday. I met a couple of new people, and two who are frequent visitors of my blog (hi Jhanz and Martin!).
Oh, the talks! You'll be glad to know that none of them was a snooze fest. That's saying a lot because nearly all conferences/seminars I go to, I fall asleep at some point. Perhaps it's because the topic is something of my interest and that I was eager to learn from them. Or they were really engaging and entertaining speakers? Either way, all of the talks were so informative and helpful I actually took notes. Some of it I already knew, but good to be reminded nonetheless. Also, be mindful of what you post online.