It's been a long time coming but we finally did it! Before we would just casually throw out this crazy idea of going out of town, for a few days, out to the provinces and just relax, unwind, have fun. I believe that we've talked about it for years and no concrete plan has been agreed on…
Until 3 months ago, the four of us were online and started a conference. One of my friends brought the idea up yet again and suddenly, we have came to the decision of going to Cebu during the last few weeks of May. Things were going out according to plan (yay!), especially because we are on a tight budget. We were able to score discounted plane tickets on time, and on our preferred days, too!
Fresh off the bo — I mean, plane!
I had a goal during this trip: To only shoot using my digital camera and phone. With that said, all the photos here were shot either by my digicam (a Nikon P300) or my phone (Nexus 4). Post-processed in Photoshop. Up to you to figure out which photos were taken by which camera. By the way, all the panorama photos will open on a new window if you click on it instead of the usual lightbox embed. I couldn't find a plugin that can display panoramas on images hosted outside WordPress. Sucks.
Since we'll be carrying our stuff most of the time cause we'll be going to a different place for every day, I had to 'pack light', hence I couldn't bring in my big camera. So no DSLR photos on this post! :)) But packing light? Yeah right. When we met up at the airport, I had the biggest luggage. No, it did not end well for me towards the end of our trip especially when we transferred to multiple buses and boats lol. Next time, only bring clothes you are sure you're gonna wear, and not the whole closet. Leave your girl scout self at home, ok.
Anyway!
Day 1 we went to the following places: Rainforest Park (To me it was like their Star City, only a lot smaller and simpler. But what do I know, I am only a tourist. Haha!) and then we had dinner at the buffet restaurant somewhere on the top floors of Crown Regency Towers. Last on our itinerary for day 1 was this new attraction called the SkyWalk Extreme.
Dare I say, day 1 was the challenging part of that trip. At the end of the day, my knees were shaking and I felt beat when we got back home and then the next day I was beginning to feel sick.
Ha ha ha, self, you have no idea what was about to go down.. :))
Prior to actually doing the things inside this attraction (Jungle Adventure), I thought they would be easy as pie. But as soon as I was inside the area and they strapped on the harness on my body and they told me to climb up the rope ladder.. I started to act like a pussy, and that continued until the very last part of it. =)) Sure, I laugh at this now, but at the time, I was scared shitless. LOL.
This shit is easier said than done!!
Never again? Probably. But who knows. Now that I think about it.. it doesn't seem so scary at all. Maybe I'll try again in the future. Or not. Lol what a pussy! :))
On the other hand, there were good and best parts of our time in Rainforest Park: I touched snakes and fed animals! :))
Well that's the entrance going to the oceanarium..
Past inside the gift shop is the oceanarium where there are gigantic aquariums where them fishies reside. :)) And then at the far left corner, is where they keep the cages filled with different kinds of snakes.
Next we went to the aviary where the birds and an unexpected animal were located. Among the things you can do inside are… feed the birds and lol around. Yep lol around, which was what we exactly did. They were panicking whenever the birds flew over them or came just a little closer to them.. and I was such an a-hole that I just laughed instead of helping them shoo them away. =))
The unexpected animal was a deer. The caretakers call her/it/him(?) Bambi. Couldn't tell what's its gender, really. Haha. Also a bit sad that the deer's horns have been cut off. The problem with animals taken out of their natural habitat is when you see them they just look so sad and they're just about looking for any kind of TLC from anyone, human or animal, I guess? Lol.
I really wanted to take Bambi home. Or at least spend more time feeding him/her/it. Bambi reminded me of the dogs I left back home while I was in this trip.
After the aviary, we took a break and then we did their jungle adventure attraction thinggy. Already talked about what happened in that one on the very beginning. :)) That's the last thing we did there.
Next we went to Crown Regency Hotel and Towers for the Skywalk attraction. I started to notice that all day we've been doing things that involved being in high places and I wondered what is it with this place or its people and their sudden liking to things like this.. lol. First was doing harness activities and then getting harnessed to walk at the edge of the tallest building in Cebu city? What's up with that?!
I don't have that much photos of the place except for these ones because most of the time was spent waiting for our turn in the Skywalk queue and we had to leave our stuff behind. Not even a photo from my phone of the view from the edge of the building.
When we bought our passes for the buffet and Skywalk, we saw a Tiger. I thought it was just a model at first (I didn't notice its leash okay!) but when it started moving, I just had to take a photo of it. I didn't feel scared at all.. hahaha. If I had more money that day, I would've paid to get a photo next to it. I'd want to pet it too.
The buffet was okay. I wish I didn't ate that much before getting here because I wanted to go back for a couple more helpings but my tummy didn't have space anymore. I also heard from one of my friends that one of the waiters accidentally dropped something on my phone (I assume he dropped a utensil when he picked my empty plate) when I left to get food and quickly tried to wipe the mess. Didn't even have the balls to tell me what happened. Well for the record, I noticed something went wrong with the phone when I came back. Minus points for y'all.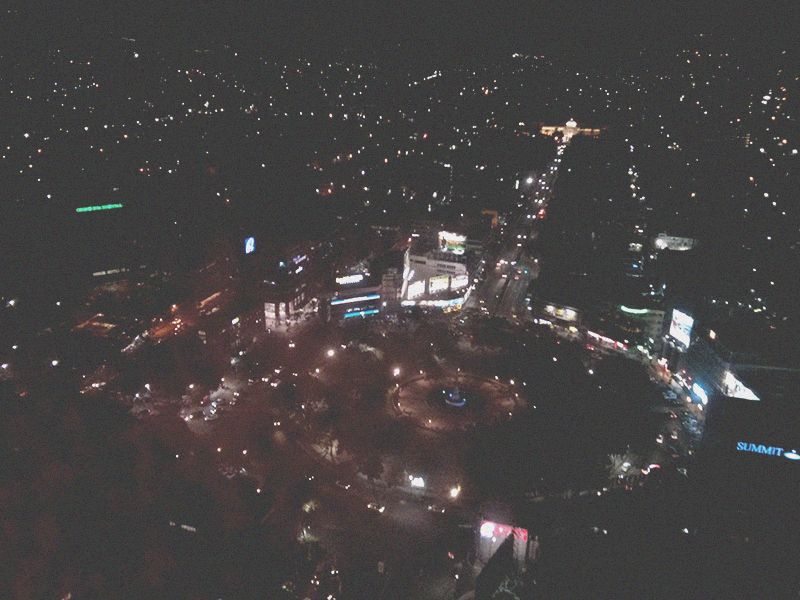 Umm this was taken inside the elevator, lol. I was fascinated at that building at the far end that looked like the White House. :)) I'm not a person who takes down notes of the names of the places that we've been to so um, IDK where this is except for the fact that it's in Cebu.. haha!
That ends my recollection of day 1 in Cebu!
Day 2
Lol IDK where this is 😛
Up early in the wee hours of the morning to catch a bus trip from the main city to the island of Oslob to go swimming~ with the Butandings (Whale Shark). I remember the trip going there was super long, around 2-3 hours? But the good thing was the bus that we got in was new and hindi siksikan sa loob. We were comfortable throughout the trip. At first I was paranoid that if I fall asleep, I might wake up with my things missing.. but I forgot that I wasn't in Manila, so I slept and let go and thankfully most of my things were still with me when I woke up.

Finally arrived at one of the beaches in Brgy. Tan-Awan, Oslob! I don't remember the name of this place though. Lol. We paid the tourist fee before we got to the hut and prep up for our whale shark watching. Again, I made the mistake of not taking note of important details but the tourist fee for locals (meaning from Manila or outside Cebu city) was around P500, and for foreigners, was P1000 pesos I think.

We didn't have any meals before we left for Oslob so our first meal of the day (lunch), were food from the beach. Sad to say it wasn't that delicious or satisfying. Good enough to fill our stomachs, but nothing worth taking note of. Also we were busy taking photos of the view. Suffice to say I ended up with just one panorama of the whole sea view to put here, lol. The rest of the photos are of myself, the typical tourist photo.. so never mind. :))
Whale Shark watching was tiring and stressful in my part, but my friends obviously enjoyed every second of it. I was too busy struggling to float, and trying to hold on to the boat.. hahaha!! Well I saw the whale shark anyway, so there's that.
Next we went to the Tumalog falls. I was expecting to see epic falls, like the type that you'd go gaga over wanting to take a photo of but I was greeted with a murky area instead when we got there. First impression? Disappointed. I'm sooo sorry. Maybe because I was already feeling sick when we got here. I was not in the mood for it anymore.
From the beach, we were taken to the falls by a motorcycle/habal-habal ride.. a 10-minute motorcycle ride. Stupid me forgot to bring a towel to dry myself, I didn't know that it was THAT far from the beach. Anyway, who cares, it's not like anyone's gonna remember seeing me there. :))
Another thing that happened which made me more disappointed in this tourist attraction was in the motorcycle trip, we were dropped at some checkpoint area and we were told to walk on a steep mountainside in the scorching heat! WTF, isn't that supposed to be included in the motorcycle ride? Apparently it wasn't and it's a different fee altogether. Take note that the area itself that leads to the falls looked very hazardous! There aren't even any signs or lights. What if people went there during nighttime?! they could easily fall off the cliff if they're not careful.
So okay, let's just suck it all up and get it over with. We walked from the checkpoint area to the falls. It really annoyed me when those motorcycles just passed by us and didn't even bother to offer a ride. I just kept thinking that maybe the place is really that great once we're there. Well I was totally wrong.
When we got there, it was beyond my expectations in a bad way. Not even the experience of hanging by the falls, or or.. getting myself wet with its water is enough to compensate. It was too cold and I got sick from it (probably from the quick temperature shift) at the end of the day. Dunno why I expected the water from the falls to be hot spring cold. 😐
Back to the beach after 30 minutes of trying to make ends meet and enjoy Tumalog falls. We washed up and took a bath and left Oslob after an hour.
Our next stop for day 2 was Simala Church. From Oslob to Simala, we took another bus and the trip lasted for an hour and a half, I think. All I know is that I kept falling asleep again, haha. Then we were dropped at a nearby area then we took a motorcycle ride which brought us to the church. Unlike last time, this motorcycle ride was pleasant. 😛
Simala Church is one of the oldest churches in Cebu. It's one of those places that's a must-visit for tourists because it is also known as a miraculous shrine of Mama Mary according to the many people who have personally experienced getting their wishes granted. There's like a whole building filled with thank you letters, and things ranging from crutches, wheelchairs, board exam IDs, diplomas, etc. all showing how grateful these people are for granting their wishes.
As for me, I was fascinated with its architecture and the fact that it's well-maintained despite its age. I have more photos but I got lazy to post process them, hehe. Also, people are very courteous and polite here. Everyone strictly follows the shrine's rules.
Among the strange (yet understandable) rules I've seen in this place is their "no couples" rule, and if you're wearing outfits that exposes too much skin.. you'd have to cover it with something (in short: no wearing of short shorts, and minis, and anything fashionable, lol). Good thing I wore jeans on this day, haha.
Took us an hour to go over the whole place. You won't get bored easily because there are a lot of areas to explore. Just staying at the area with the thank-you letters alone will consume lots of time because you'll get curious and convince to look at all those things and read those letters inside the cabinets. 😛
Simala church closes at 5PM. It was time for us to leave and go back to the city to have dinner.
Another bus ride (the last for today!) from Simala to the main city. We ended up going to SM Cebu and having dinner at this fast food resto that looked unfamiliar to us. Food was yummy, wish they had this in Manila too!! It sounds silly but we wanted to check out their branch of Forever 21 too because they have this clearance section and their prices are way better than the F21 branch in manila. Unfortunately, since we arrived late and our dinner took quite some time, by the time we were done, the mall was closing. Another time then. As an alternative, we went to a videoke place instead.
End of day 2.
Day 3
Last day before we go back to Manila! Same as yesterday, we left the residence we stayed at (our friend's friend) still around morning but a little later than the time we left yesterday. Also waited a little longer for our bus in the terminal.
There was quite a mishap with our trips going to Bantayan Island. I think we rode the wrong bus, lol. We saw these two guys who seemed lost, too, and well.. we should've asked if they were heading the same was as us. Later I found out that they were.. but they didn't leave the bus when we did. We were going to different islands but they were close to one another, so technically we'd be in the same route of travel still. LOL OH WELL.
From the bus trip (which was 2 hours, I think), we were dropped at a city that's close to the route going to Bantayan island, then we rode a tricycle to go to the ferry port which will be the final transportation to take us to Bantayan island. We had lunch at the port carinderia while we waited for our scheduled trip. Oh and btw, by this time I was feeling ill from yesterday's trip. Meh.
Boarded the ferry around 1:30 PM and got nice seats by the window. I took some photos.. nothing special, just clouds. Heh.
You probably saw this photo on my IG already, haha.
Shoreline of Bantayan island
Upon arriving, there were people waiting for us from the resort where we are staying in. The trip from the port to the resort was 5 minutes away. We were quickly escorted to our rooms as soon as we got to the resort.

The rest of the afternoon was spent biking and exploring the small village in the island. We weren't able to go to its "main city" because our other friends rode bikes instead of scooters and it was too far for them to bike to the main city. :))
We got separated and lost from each other a couple of times because Princess drove the scooter too fast and they weren't able to keep up with us. :)) Then we stopped by this burger joint (not Burger Machine though) for a snack, then forgot to pay. I think we pissed off the people in there for some reason. Sorry for being such tourists. Pff!
On our way back, they saw this stand selling cold refreshments. The burger wasn't enough, so they made a stop over and bought some, and none for me cause I didn't feel well to get a cold dessert.
Meanwhile, back at the resort. It was already nighttime when we got back and there was nothing to do. We just took photos around the resort (while the sun was still out), and chilled by our cabin. Later that evening, the three of us went to the restaurant to have dinner. Instead of staying up because it was a Sunday, we slept early. Guess we were all tired from the back to back long trips and having to wake up early for the past two days.
As one of my friends said, our sleep in that resort was the best sleep we got from our entire trip. Early sleep = lots of time to sleep and recover from the past few days.
Day 4
Last day in Cebu! Weird that the hours went by real slow on our last day in the morning, then sped up at night. What. Up early for the last time, and quickly prepped up to.. swim!!

I'm pretty sure I/we did not have breakfast before heading out to the sea, hahaha. So anyway, there we were.. there weren't many people out to swim that morning, which was a good thing. Only when we were done and started to pack up did the people from the other cabins started to come out to enjoy the water.
Compared to yesterday's activities, I prefer this one much more than that one. This one was more laid back compared to the Butanding activity. Wish I could've stayed longer just floatin' around the sea in the resort but my goggles broke so yeah. :))
Picharsss~! I took pictures while waiting for my turn to wash up after swimming. Well the first one was BEFORE we went swimming. :)) I love love love how these panoramas turned out, so please view it in its max resolution! It's just too bad that I couldn't find a better way to display these for your convenience here on my blog.





That's mostly all the good photos I have to share for day 4. When we finished packing our things, we checked out and had brunch. We were in a hurry to go back to the main city because of our flight back to Manila. Plus we had to buy pasalubong for people back home. I didn't buy much, but just imagine how much my friends spend for their pasalubong, lol.
Most of our time was spent yet again on the bus (4 hours, was it?!). Then back at the main city, we quickly looked for a cab to take us to the airport, but stopped over by a dry market to buy pasalubong. I went crazy with picking out random stuff to buy, then I had to remove a lot of 'em later on cuz the total came to more than a thousand pesos. I wasn't expecting that! 😯 So, I was the only one with a small bag of "stuff" to bring back for everyone back home.
The way that we hurried up to go to the airport to 'catch our flight' was useless, it turned out, because our flight became a delayed flight eventually. Ugh. Only the three of us were going back to Manila, Princess had to go somewhere else. We had like 2 hours to kill, sew boring. Darn these local airlines and their delayed flights. My friends were able to use this delay to their advantage, though: they were able to make last last minute pasalubong shopping inside the airport.
Left Cebu around 11PM. Bye, until next time.. (maybe)
Overall it was an awesome experience and I'm glad I got to go to Cebu for the first time and explore it with my friends even for just a short time. I'm pretty sure that this will be the first and last time I will get the privilege to go to this place, so I'm happy I got to make the most of it when I had the chance.
You may have noticed that I didn't post specifics about the places we went to or how much we paid in this area and that area. Like I said, I don't take note of it (which is a bad thing, I know) most of the time.. however, I posted the names of the places we've been to, so you can just Google from there and you'll find out the rest of the information about it from other websites with, hopefully, better guidelines than my blog entry about our Cebu trip. :)) Actually, our itinerary was made from scratch: From pure Google search and my friend's knowledge of what are the best places for budget-conscious kids like us who are on an impromptu out-of-town trip.
Still, somehow I hope my entry was helpful if you've stumbled to this through a Google search. 😛