Out of all the concerts I've attended in the past couple of months (my last one being the Incubus concert, and that was the cherry on top of my life until this one!), this is the most spontaneous one yet. So, buckle up and brace yourselves for another loooong post about this exciting concert! 😛
PART ONE: THE HOTEL
I woke up really early for this because I thought that if I were there early, I would at least get a glimpse of Amy Lee before she leaves the hotel to go to the nearby mall (SM Megamall) for the M&G with selected people. See, I had planned in advance for this moment! Apparently, I failed to get a glimpse of her and I felt that I had wasted 3 hours for nothing. My friends came in a little bit later in the hotel but for a different reason: to meet Gavin Rossdale of Bush (a 90s band). They succeeded at doing that, and well, it was a pleasure to meet another rockstar so I jumped in and joined for a photo-op. I feel a little out of place because I wasn't too familiar with their music and this guy, yet.
I did enjoyed our tambay sesh in the hotel because a) talk about bongga!, b) I miss my ISTPh friends!! Of course we were talking about Incubus more than anything else while waiting, hahaha!
When Bev arrived later in the afternoon, she was the only one who had the courage to go straight inside Heat (Shang's resto) to look for them and as we were nearing to the other exit, they saw Bush having their brunch. We waited outside and minutes later, a bouncer came in, ruining our chances. Ugh. Luckily when the guys went out, Gavin was willing to have a photo taken. Would've wanted solo shots with him, too, but the bouncer ruined our plans!!! My only conversation with him was telling him that I was the one who tweeted him to come out so we'd meet him, to which he replied like 8 hours later. 🙂 He remembered!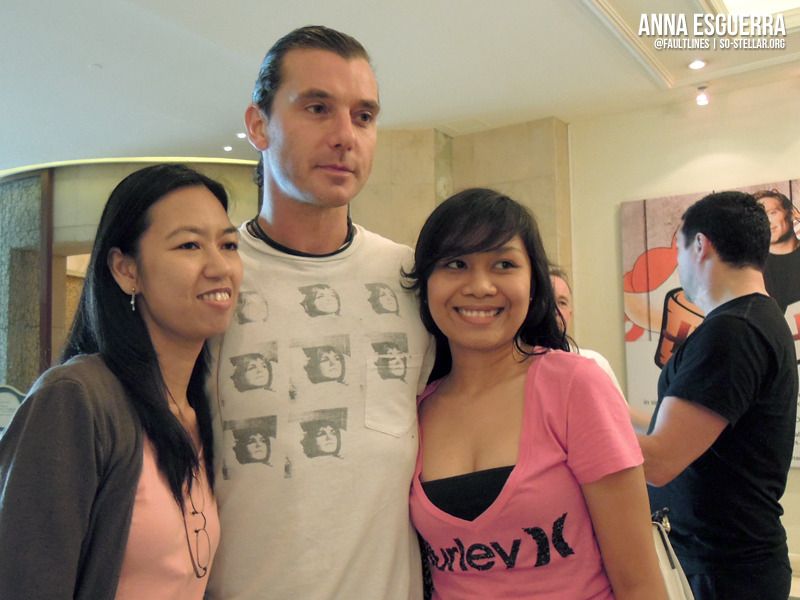 Some of us from Incubus Street Team Philippines with Gavin Rossdale of Bush 🙂
..and that was that. We stayed a bit, then left for lunch at the Shangrila mall.. went back to the hotel, and left for Araneta Coliseum shortly after our stay in the hotel. I swear, that hotel was my home during that Sunday! :)) Traffic going to Araneta wasn't so bad, but that's probably because we went there pretty early — late in the afternoon we made the trip.
PART TWO: THE PRE-SHOW MEETUPS
We wait for Lei before Rex picks up the tickets that he won from AtTheWomb.com (they're both winners and decided to bring Shereen and Anne as their plus ones.. it's a win-win situation for the five of us. She arrived a little past 5pm, it was funny because she was angry at us the moment we met her because we got to meet Gavin and she's the one who REALLY wanted to meet him. :)) Anyway, they picked up the tickets and turns out they were reserved Upperbox A tickets. Lucky them! Dinner at Taco Bell after and then we met up of Janella of ATW for photo-ops to be posted on ATW's blog. I somehow got in the photo even though I wasn't part of the winners nor did I get any free ticket from them.. twas nice to meet the folks, Janella and sr. Jordan (sans Miggy Matute) of AtTheWomb though! 🙂
After the photo-op, we finally enter Araneta and to our surprise, we see Sr. Renen of Ovation Productions! Lei approached him and asked, though not expecting anything out of it, about Bush's M&G. Sadly, we were late for that, but he asked if we were interested in meeting Evanescence instead. When I heard him ask that I was yelling "OH, ME, I DO I DO I DO!!!!!!!" and the four of them were pointing at me, the most "fan" of the band. Haha! I cannot believe this was happening.. I was going to meet them!
I was disappointed that it's not like the Incubus M&G before that we could have something signed.. we're only allowed one photo op with them. Okay, that's better than nothing. So we were rushed backstage and into the M&G holding area… ah, memories of July 28, 2011! Hahaha. It was announced that Amy wasn't feeling well and the briefing that mentioned the same things that were told to us earlier (no personal photos, or photo ops, or personal items to be signed. just one group photo).
When it was our turn, I rushed to her side (perks because I was first in line in our group, heh).. immediately told her that "Hi Amy!! I've been idolizing you since I was 14!!!!" to which she replied a shot but greatly appreciated "Oh??! That's so sweet!" I don't remember her facial reaction, and someone said I hugged her and someone got a photo of it.. that I don't remember too! 🙁 But I'm sure as hell glad I stood next to her, as evidenced on this photo!
PART THREE: THE CONCERT
So we were ushered back by one of the Ovation staff to our area, I was separated first. They were seated together and had the best seats, compared to mine! 🙁 I realized that my seat area was awful, hence the profile/side view photos during the concert! Ugh, never again!! At least I had tried to be in the right side for once, right? 😐 But seriously.. if I were in the same area as my friends, I would have had better shots! That's my only regret during this whoooole experience! Oh, that and my zoomy P&S running out of battery power FAST!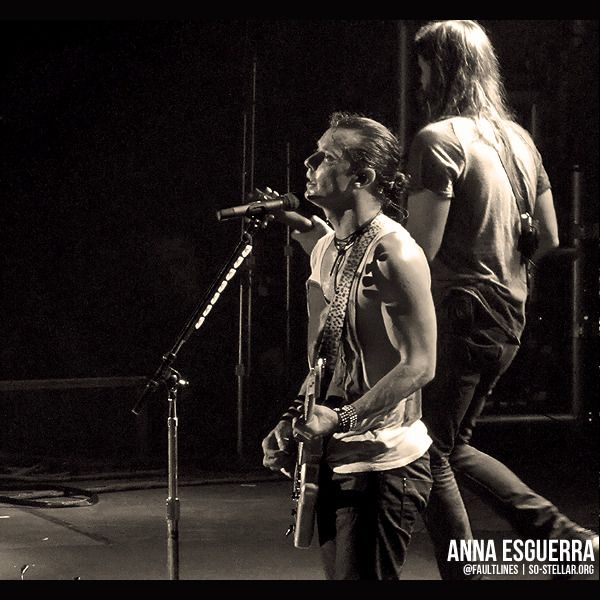 Bush performed first. I was mostly cheering along but sat down mostly during their set because I wasn't too familiar with their songs, and I was reserving my energy and cameras for Evanescence. Needless to say, I have better photos (although less) of Bush compared to them.. you'll find out why in a while. Out of all the songs Bush performed, I was anticipating Glycerine.. and unexpectedly the song that followed it had a nice beat to it and I regret not taking a video of that performance! Found out the next day that the title is "Comedown". And I after everything, I considered myself a newbie fan of Bush now. I'm late to the party but it's better than anything, right? 😛 Lei got to kiss Gavin when he went around the audience area way up to the Upper B area.. Who does that, right?!? NO ONE OTHER THAN GAVIN ROSSDALE!
Finally, it was Evanescence turn to rock the stage! I was sooo mad, yet still rocking out to the songs that I knew, because the stage lights RUINED EVERYTHING!!!!!!! If anything, I've learned to love the light as a ~*photographer*~ but in this case, it was killing my chances of getting any good photos! Some of these were just salvaged from my batch of awful, blurry shots! 🙁 Hay. Never again, I say! Another disappointment, aside from my unlucky spot because t'was a direct hit of the stage lights, was the lack of songs that I knew that made it to their setlist. From what I remember, they performed Going Under, Don't Call Me When You're Sober, Lithium, Imaginary, Bring Me To Life which were my favorites/songs I knew..The rest? Either I didn't know them or wasn't too familiar with it and only appreciated these songs after the show: Sick, Made of Stone, The Other Side, Swimming Home, The Change. Looking back, I think it was a good thing they've put more of their newer songs instead, or else I wouldn't have listened to it as much as I do now. 😛
She sounded a little off during this concert but I forgive her because she was sick! 🙁 Poor Amy, I hope she recovers soon! I longed to hear that haunting voice of hers live since I was 14 (yes I will keep mentioning that), and I got my wish.. god, t'was so amazing. 🙂 Also, she's soo white! Even though I have edited the photos and all, she's still glowing in some of these!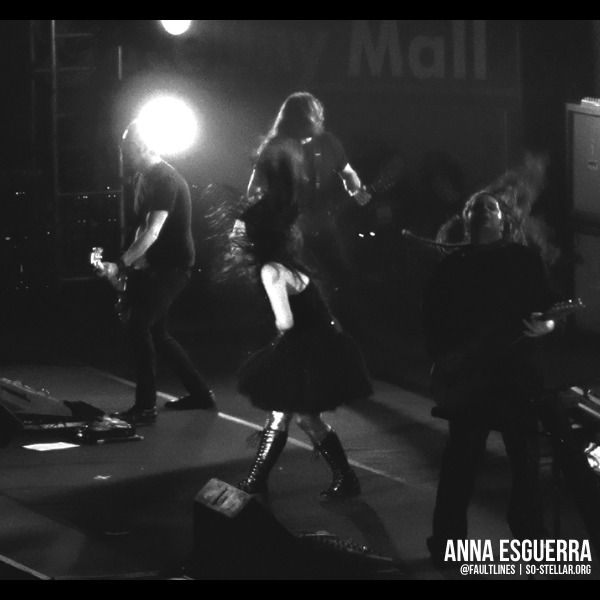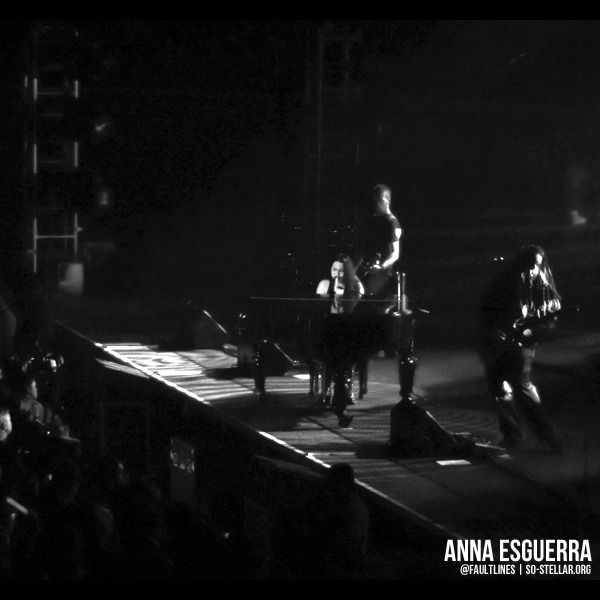 All in all, Evanescence performed around 14 songs, Bush with 12 songs. Worth it.. but I was expecting around 20 for each band. Haha, don't blame me, Incubus got me used to hearing around 20+ songs.. and that's from someone who has seen them thrice!
PART FOUR: HOTEL ENCORE
You would think we went home right after the concert? NO! We had an agenda.. and that's to meet Gavin again and with Amy Lee this time! It wasn't a success, but I did get to meet another member of Evanescence! Enter Terry B. aka Terry Balsamo, the guitarist of Evanescence! He's the guy with the dreads in the band, and the only intact member during Fallen-The Open Door era. Another member was there, too, but he wasn't in the previous albums and I think it would be awkward to approach him so I didn't bother. 😐
I had my own M&G with Terry Balsamo, went to their table in the lobby lounge with Anne and asked for a photo and to sign my albums. He was nice, a little shy and we weren't exactly understanding each other (me with my shaky voice and sucky English, LOL.. and he didn't understand me at first). But he agreed to sign and have a pic with me. 😀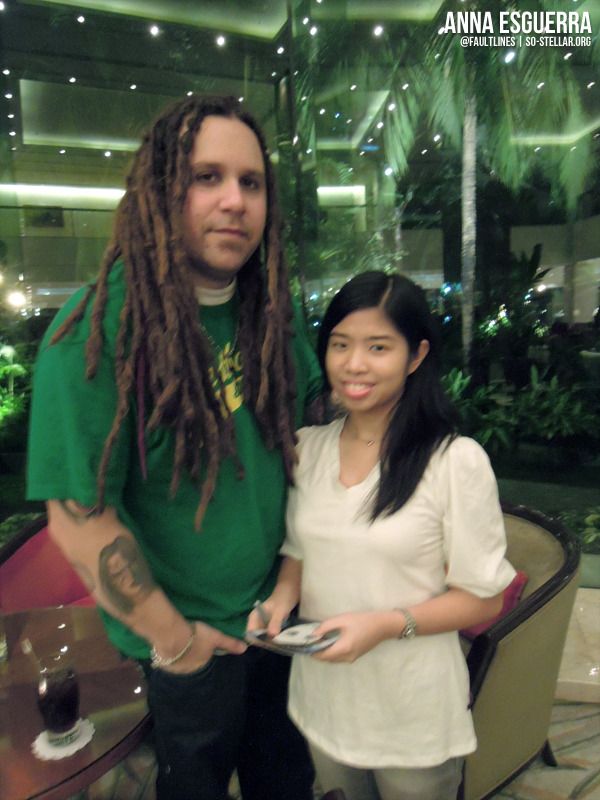 Terry Balsamo of Evanescence and I
I left first among the group, I don't know if they got to accomplish meeting Gavin after but here's us in the lobby lounge.. separating us and the roadie of Bush and members of Evanescence is that darn pillar! Wes, a new addition to the group that night, and a familiar face (from last year while waiting for Incubus) was with us, too.
————————–
Evanescence Live featuring Bush is presented by Ovation Productions. Thanks to Sr. Renen de Guia for the opportunity to meet Evanescence. Other photos without my watermark are by Ferdie Arquero (Ovation Productions), Bev Kho (group photo with Gavin Rossdale of Bush), Janella Ricafort of AtTheWomb.com.